PromilleTest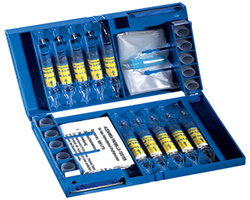 The Alcohol Test Breathalyser Tubes enables the alcohol content in blood to be determined reliably and easily. These tubes are used for precautionary check after alcohol consumption or residual alcohol before driving as well as check of alcohol prohibition as applicable to certain occupational activities.
The basic principle behind the test rests on the fact that a legally determined relationship exists between the alcohol content in exhaled breath and the alcohol content in the blood.
The test provides an analysis of alcohol in blood values from 0.5, 0.8 and 1.0 promille [0.05%, 0.08% and 0.1%]. The official alcohol limit values of 0.5 and 0.8 promille are marked on the detector tubes.
Ordering Information : D5091770 - PromilleTest
The contents of the package enable ten alcohol readings to be taken and consists of the following parts:
10 breathalyser test tubes
10 hygienically packed mouth pieces
01 breath bag for the measurement of volume
02 glass files [on the side of the plastic case]
01 set of instructions